Recently, we've been covering how to start an artificial turf maintenance business. With the number of inquiries about the subject we felt it was time to write Starting an Artificial Turf Maintenance Business Part 3.  However, if you landed on this page first, we suggest that you read the first two articles.
In those posts, we covered the basics of what you would need to get started in the business. Today, we'd like to discuss how you can really grow in this blossoming industry. Once you are servicing a roster of artificial turf fields with grooming and sweeping, the next step is to promote health safety on turf to prevent MRSA, Staph, and other infections. Recent news in the NFL has shown us how easily MRSA can be contracted and spread in athletic facilities. Our earlier post, MRSA and the NFL: GreenZapr and MiniZapr A Trainers Dream, will give you a better idea of what is going on with the Buccaneers. By starting an artificial turf maintenance business you can be a part of the solution for artificial turf and athletic facilities when it comes to MRSA and Staph.
What Causes MRSA Infections on Artificial Turf?
The easy answer is the 5 C's. The 5 C's are what the Center for Disease Control cites as the ways that MRSA and Staph are spread. The fact is that the bacteria that causes these horrible infections to lurk in many places. It only takes on of these situations to be present to contract MRSA. In most popular sports, like football, all 5 are present making the risk of MRSA higher.
The Five C's That Spread MRSA
Crowding
Frequent Skin to Skin Contact
Compromised Skin (cuts, scrapes, small abrasions)
Contaminated Items (sweaty towels, clothes, mats, synthetic turf)
Cleanliness
With the growing popularity of artificial turf fields and the increase in turf burns and other minor abrasions that come with it, there is cause for concern over the possibility of MRSA contraction from artificial turf, gym equipment, mats, and other practice tools.
There are two main ways to rid the artificial turf of Staph, MRSA, and other harmful bacteria. Most use a chemical spray which is costly and leaves ta oxic residue that athletes will come in contact with. A far simpler and just as effective option is to blast UVC light onto the artificial turf and destroy the DNA of harmful microorganisms. Finding bacteria on turf and other surfaces is easy, and getting rid of it equally as easy with our UVC equipment, the GreenZapr, and miniZapr.
850 GreenZapr and 860 MiniZapr Kill Bacteria on Artificial Turf
Once you are ready to expand your fleet of artificial turf maintenance equipment, take a look at two state-of-the-art pieces, the GreenZapr and the miniZapr. Both are designed specifically to destroy problems like Staph and MRSA before they even start. GreensGroomer Worldwide, with extensive research in hand, created this equipment as the most durable and effective on the market. Made of powder coated aluminum, the GreenZapr and miniZapr are both durable and lightweight.
The 850 GreenZapr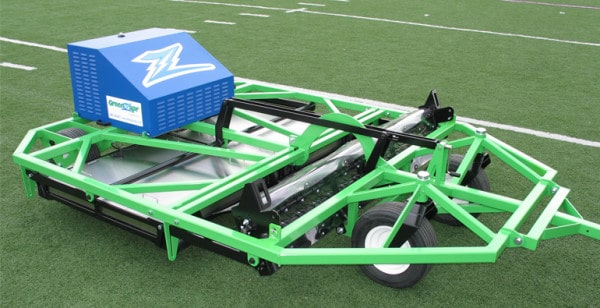 The MiniZapr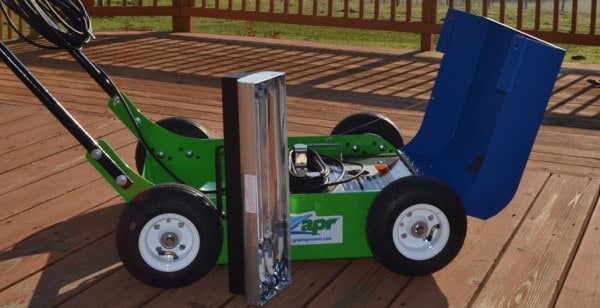 The GreenZapr and MiniZapr are truly one-pass solutions to ensuring the safety of all your athletes and patrons. The GreenZapr is for large outdoor spaces and pulled by almost any utility vehicle. Meanwhile, the MiniZapr is perfect for any indoor space and is powered by a small generator or simply plugged into any wall outlet. We are so convinced that the miniZapr is the next big thing in preventing MRSA, that we've started another business entirely dedicated to this revolutionary piece of equipment.
Sports Turf Northwest Is Here to Help
Mike at Sports Turf Northwest, is here to aid anyone looking to get started in the field of artificial turf maintenance. He has extensive knowledge of the science behind UVC technology and is happy to answer any questions you have about getting started in this business. Give him a call or email him to open new possibilities for your artificial turf business. Soon, Sports Turf Northwest will be offering a turn-key solution to quickly opening shop in an artificial turf business. While we aren't interested in franchising, we will be providing a one-stop-shop for marketing, website design, and implementation services for hardly any cost. We want to see artificial turf maintenance businesses succeed and are ready to help.